"What you have heard from me in the presence of many witnesses entrust to faithful men who will be able to teach others also." – 2 Timothy 2:2
Discipleship is about making disciple-making disciples. The goal of discipleship is to make disciples who make disciples who make disciples. This is the essence of spiritual multiplication. We see in 2 Timothy 2:2 that as Paul disciples Timothy, he has the big picture in mind. And so he's mindful of the "faithful men" and "others" who will in turn be impacted through his work with Timothy. He has 4 generations of disciples in view in this verse. He knows that Biblical discipleship is multiplicative, not additive. It's about multiplication, not addition. Perhaps this image will help conceptualize this idea of spiritual multiplication: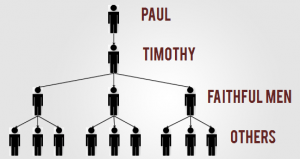 One of your primary goals as small group leaders is to make and buildup disciples in such a way that these disciples will also be able to make and buildup disciples who will be able to make and buildup disciples also. We need to have the big picture in mind as we lead our small groups, as Paul does with Timothy. Remember that as you invest in your current small group, you're really investing in several generations of believers to come.
It's so important that we have this focus in the small group ministry. If we make disciple-making disciples through our small groups, the ministry will grow organically as leaders are developed and groups multiply. So be encouraged! You have the opportunity to impact the lives of hundreds of believers through the small group that you're currently giving leadership to and this can have a multiplying ripple effect among the nations. Think big picture. And when the spiritual multiplication process (2 Timothy 2:2) seems overwhelming, burdensome or even stressful, remember and be encouraged by what Paul intentionally said to Timothy just one verse earlier, "be strengthened by the grace that is in Christ Jesus," (2 Timothy 2:1). Jesus gives us the grace we need to do what he has called us to do. What a comforting truth.
You are loved!
Will