Magna Carta turned 800 years old Monday. Who celebrated? Perhaps few, but we all benefit, especially English speaking Christians. Foundational to modern democracy and individual liberty, Magna Carta, or translated from Latin as the Great Charter, marked the beginning of the end to the despotic ambitions of tyrannical English kings. With that, it was the legal enshrinement of religious liberty in the English speaking world, a world at that time isolated to an island in the North Atlantic but now spread to all corners of the globe including our own true north, strong and free, Canada itself.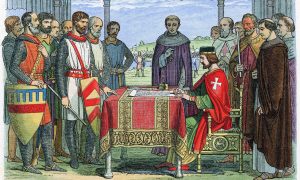 Richard I was coronated in 1189, only nineteen years after his father, Henry II, authorized the murder of the Archbishop of Canterbury for governing the church apart from the king's consent. Richard, named the Lionheart for beheading 3,000 Turkish prisoners of war, was no less the despot than his father. Abroad his infamy outlived him: for centuries Turkish mothers threatened to send their naughty children to Malik-Ric (King Richard) when they disobeyed. As abroad so at home, Richard had little regard for any good outside his own self-exaltation. To finance his megalomaniacal military exploits he impoverished England with taxation, and he once said he would sell London itself if he must. Eventually he was captured returning from a war while in Austria, only to be released for a ransom. To pay the ransom, his clerics levied a tax of 25% on income and moveable property in England, including the English Church's gold.
Upon his death, his younger brother was crowned King John I in 1199. He was not half the military leader of his older brother or father, but he was just as egotistically autocratic. He lost the nation's territory in Normandy after 150 years of union, only to lose the confidence of his people with it. He spent the remainder of his rule trying to recover and prove he was as good a conqueror as his predecessors. He developed a Navy to defend England in the Channel, he tried to win back parts of France, he imposed royal government in Ireland, and he forced the Scots to recognize him as overlord. He terrorized Wales into submission when he hanged twenty-eight sons of Welsh chieftains who surrendered as prisoners of war. To finance his exploits, he levied a thirteenth part tax on all income and moveable property.
In 1205, the archbishopric of Canterbury was vacated. King John I, ever the opportunist, refused to fill it because he wanted the church's money for himself instead of paying for a new bishop, a tactic he had already often used in less prominent bishoprics nationwide. The Roman Pontiff himself, exasperated by John, defied the King and appointed Stephen Langton Archbishop of Canterbury. Furious that he could not keep church money to himself and that the church freely appointed bishops in his kingdom, John banished all monks from Canterbury who supported the Pope, severed all English offices held by Italian bishops, refused papal legates entry into England, and eventually confiscated all church buildings and church lands. Excommunicated by the Pope, John feared an invasion from the King of France supported by Papal sanction. Terrified of being dethroned, John cowed to the Pope and essentially became the Pope's own feudal vassal.
John's trouble didn't stop. The English people's distrust for him was already too deep. Incensed by another costly military defeat in France, the English barons rebelled against his abusive taxation in 1215. But it wasn't just the barons. They received ecclesiastical support from the Archbishop of Canterbury Stephen Langton, the same Langton from whom John had previously confiscated all church buildings and land. The rebels besieged Northampton Castle, occupied London, and on 15 June 1215 famously forced King John I to sign Magna Carta at Runnymede, five miles west of present day Heathrow Airport.
Magna Carta marks a time in English history when the King himself became subject to the law instead of the law being subject to the King. Highlights of Magna Carta include the right to due process, protection against unlawful search and seizure, freedom from taxation without representation, and, most important in my mind, the complete freedom and autonomy of the English Church.
Although the Pope later nullified Magna Carta at King John's request, every subsequent English king who violated it was considered a tyrant to the point that future kings reinstituted Magna Carta multiple times to quell angry mobs irate by government overreaches.
Magna Carta eventually influenced the Glorious Revolution under William of Orange and the framing of the English Bill of Rights in 1689. Constitutionally, Canadians inherited the English Bill of Rights as a Commonwealth nation and subjects of the Queen, and many of those rights have further been preserved in the Canadian Charter of Rights and Freedoms. Each document upholds religious freedom as a foundational human right.
Magna Carta is an 800 year old gift of grace to the English speaking Church. Recognized within is the Church's divine right to preach the Gospel without government hindrance. I can freely preach God's Word from our church's pulpit. Our church can collect tithes and issue tax receipts as a charity. Churches can own land and assets without paying property tax. Our street evangelism teams preach in the open air and pass out tracts in uptown Waterloo and downtown Kitchener, entitled to be free from police harassment. Our church can include and exclude people from membership and communion as Scripture dictates, appoint and dismiss leaders without government interference, self-constitute under the Law of Christ, and assemble ourselves peacefully without government tampering. In Canada it is a criminal offense to interfere with a clergyman performing his functions and to disrupt any assemblage of persons who meet for religious purposes. Essentially our government is legally bound to protect our right as a church to function as a society within a society. Why? Partially, because 800 years ago an English king fought the law, and the law won.
Magna Carta turned 800 years old Monday. Who celebrated? Most didn't. But as Christians, even without being aware, we definitely noticed. Instinctively we know any restriction to a church's freedom reeks of tyranny. A government that interferes with our church's self-governance, either through policy or taxation upon the church's assets, opposes 800 years of English history. Thanks be to God for this kind grace. The spirit of Magna Carta still stands, and King John I's tyranny is still dead. Thus, we find an example of God's common grace in English common law.
___________
For this blog, I relied heavily on information found in Foundation: The History of England from it Earliest Beginnings to the Tudors by Peter Ackroyd.