Bruxy Cavey is a pastor who has said some very bad things about the Bible.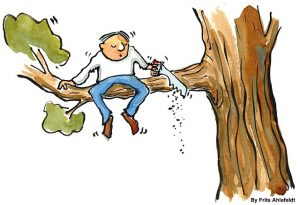 Recently Cavey's church, The Meeting House, posted a conversation between Cavey and two former BIC bishops.  The Meeting House is a member of the Be In Christ (BIC) denomination (formerly known as Brethren in Christ).  In the podcast, they discuss their denomination's doctrinal statement on Scripture.
Within the BIC there are pastors and congregants who still hold to a biblical view of Scripture.  I've even heard from some who are gravely concerned over Cavey's teachings.  And I share their concerns.
Moving on to the podcast, it did absolutely nothing to alleviate those concerns.  The men made some good points in the podcast.  But those good points make Cavey's position that much more dangerous.  Even if a highway is mostly clear and dry, only one section of black ice makes it treacherous.  The same is true here, but with more than one treacherous spot.
They admit that the podcast is a response to concerns over what Cavey is saying and is not saying about Scripture.  Cavey claims that evangelicals are looking for "linguistic ping points" as some type of doctrinal test.  He explains that words like "inerrancy" and "authority of Scripture" are "comfort food" for evangelicals who, upon hearing people say those words, say "ah they're conservative like me."  And, he says, "Because we don't use that, to some conservative Christians we appear liberal."
He's missing something or maybe even hiding something.  Words and concepts are different, but they're also related.  Cavey disregards important words, yes, but he also attacks foundational concepts.  For example, the BIC doctrinal statement says, "Therefore the Bible is the authoritative and reliable Word of God."  That definitely has some important "ping words."  But right after reading the ping words, Cavey says,
The Brethren in Christ have not been afraid of talking about Scripture as the authoritative word of God.  That's one of the things personally, I tend not to do… I don't tend to say the Bible is the authority.  I would say the Bible is God's inspired pointer to Jesus who has authority (31:49).
It's an okay doctrinal statement, but Cavey "tends not to" teach it.  Actually he teaches contrary to it.  The concern is not primarily whether BIC uses "ping words," but that Cavey undermines and discredits the actual concept of the authority of Scripture.  What he says in the aforementioned quote is mild when compared to what he says here:
The whole concept of the authority of scripture is unscriptural. God has authority, Jesus has authority. He says in the great commission 'all authority has been given to me,' not to the scriptures. The authority of the scriptures as scripture is just a weird way of talking that Protestants made up to fight the Catholics! (Bruxy Cavey Teaching on Scriptural Inerrancy – [start at 2:05]).
The absence of "ping words," while concerning, is not most concerning.  What's most concerning is Cavey's attack on "The whole concept of the authority of Scripture," a concept he calls "unscriptural," "made up," and "weird."
I have a question:
If the BIC doctrinal statement calls Scripture "authoritative" (which it does),

If Scripture calls Scripture authoritative (which it does),

If Jesus upheld Scripture as authoritative (which He did),

And, if Cavey calls the concept of the authority of Scripture "unscriptural," "made up," and "weird" (which he has),

Does that mean Cavey thinks the BIC doctrinal statement, the Scriptures, and Jesus Himself hold to "unscriptural," "made up," and "weird" concepts?
At other times and places Cavey explains that while the Bible is not inerrant, Jesus is inerrant, and while he won't talk about the Bible as authoritative, he will talk about Jesus as authoritative.  That's almost like a Jew eating bacon because the pig parts the hoof, while failing to note it doesn't chew the cud (Leviticus 11:1-8). He's calling something either/or, when it should be both/and.
He's absolutely right to call Jesus the inerrant and authoritative Word of God.  But he's terribly wrong to say the Bible is errant and not authoritative.  He appears to use the former as fig leaf to conceal the shame of the latter.  Jesus called that "whitewash."  He also called it "hypocrisy."  And those aren't just ping-words: they're also concepts.
If the Scriptures are errant and not authoritative, as Cavey has claimed, how do we know about Jesus?  Ultimately someone has to decide what to believe and what not to believe.  Who gets that job?  Personally, I trust the Bible's teachings about Jesus much more than I trust Bruxy Cavey's.
---
For more troubling statements by Bruxy Cavey click here for a much larger document prepared by member of Trinity Bible Chapel, Eric Schneider.  You can also check out his helpful articles on Bruxy Cavey on his blog here.